Meredith's Corner on the Schallenberger campus was established as a memorial to Meredith Blanchard, a sixth-grade student at Schallenberger Elementary in the 1970's. Meredith loved trees – most of the trees on campus were planted in her memory. She left a beautiful legacy at the school that we plan to nurture.
The renovation of Meredith's Corner is intended to create an outdoor classroom for students and teachers to use and enjoy. Drought tolerant native plants serve as the foundation for a hummingbird garden, butterfly waystation, as well as create interactive learning zones that demonstrate the vital role nature plays in our lives.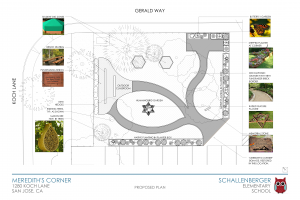 We Need Your Support
This project extends beyond the current Schallenberger families. Meredith's Corner is an anchor for the Willow Glen community, and all who were touched by a special child.
Sponsorships
To recognize key community partners, sponsorships are available to cover the costs of focal points of the garden. Sponsors will receive special acknowledgement at the site for their generosity. Secure your sponsorship before they are all gone!
Hummingbird Garden – $1,500 Sold!
Butterfly Waystation – $1,500 Sold!
Mason Bee Hives – $2,500 Sold!
Planting Boxes – $1,000/each 3 planter boxes available!
This is not a fundraiser for SHSA. All funds raised will be dedicated to the renovation of Meredith's Corner.